Fashion design no cracking wpc composite flower box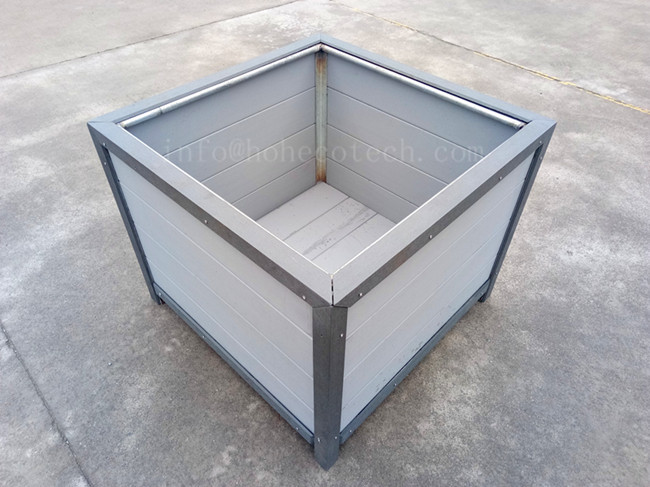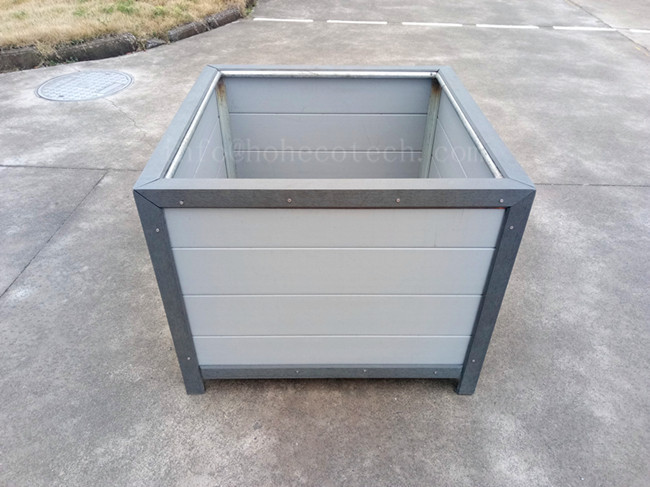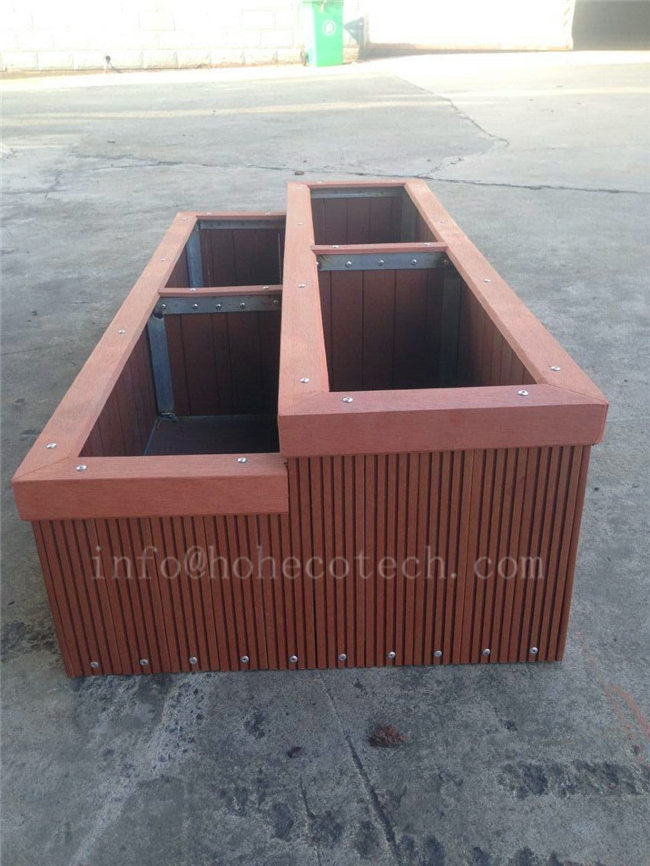 HOH Ecotech,the best partner of your happy life!
Well and High Quality Control
Prompt Delivery
Customer's Design and Logo are Welcome
Competitive Prices
In a Variety of Design
Small Order Acceptable
ODM Accepted OEM Accepted
1.The contrast of WPC and Wood
Characteristics

WPC

Wood

Moisture Resistance

Waterproof

Water absorptive

Rot Resistance

Antisepsis

Rot except special treating

Split Resistance

No Cracked

Cracked by weathering effect

Distortion Resistance

Almost no Contraction/expansion

Distorting effected by chang of 

moisture and temperature

UV Resistance

High Grade UV Resistance

Easily effected by UV

Fading Resistance

Almost no

Easy to fade

Outdoor adaptability

Great

Only few of treatedowood adaptive

No need painting

No need

Need paint periodically

Durable/longevity

> 8-15 years

< 3 years

Various Configuration

Extruded via various mould

simplex

Environment Effect

Recyclable 100%

Consume woods
2.Huasu WPC material
environmental plastic materials(Grade A Recycled HDPE and new PP)
natural fiber (wood powder, bamboo powder, etc
chemical additives. (Anti-UV agent, Anti-oxidation agent, stabilizers, colorants, anti fungus agent, coupling agent, reinforcing agent, lubricants.)
3.Surface Treatment
WG(wood Grain),DP(Dull poush),TN(Thin tooth),MM(Medium Tooth),TK(Thick Tooth)
Embossing, Sanded, Smooth, Brushed, Scratched, Grained
4.Size
160x25,150x25,150x35,150x30,149x34,147x23,146x21,146x25,145x22,140x30,140x25,140x23,140x17,138x20,135x25,100x25,100x17 and so on.
5.Color
Cedar, Copper Brown, Wood, Sandalwood, Coffee, Grey, Dark Grey 

6.Application
Garden, Lawn, Balcony, Corridor, Garage, patios, rooftops, pathways,basements,greenhouses,pool&SPA Surrounds, Boardwalk, Playground
Outdoor place

Main application

Decking board

Plank,walk path,bridge sidewalk(soild or hollow)

Pole material

handrail,railingfence,partition,scale board

Flower pots board

Flower pot,tree pool,trash can

Decoration board

Outside wall decoration board,sun shade,shutter

Bench slip

Rest chair,backrest slip,leisure table surface

Sign board

Sign board,indictor,billboard

Structural material

post,beem,keel(fittings available)

Integrated uses

Flower frame,gallery,gazebo,terrace,garage

Indoor place

Main application

Ceiling,interior panel,bath room board,door pocket and window casing,partition sound barrier,decorative moulding
7.Characteristics
1. Environmental friendly, 100% recycled.
2. Low maintainance
3. Easy installation
4. Temperature resistance, suitable from -29°C to +51°C
5. Long-lasting to use (10 years warranty)
6. Water-proof, moisture-proof, insect-proof
7. With wood scent, very natural feel
8. UV resistance, fade resistant durable
9. Elegant look
10. Even, dimensional stability
Our product series:
Decking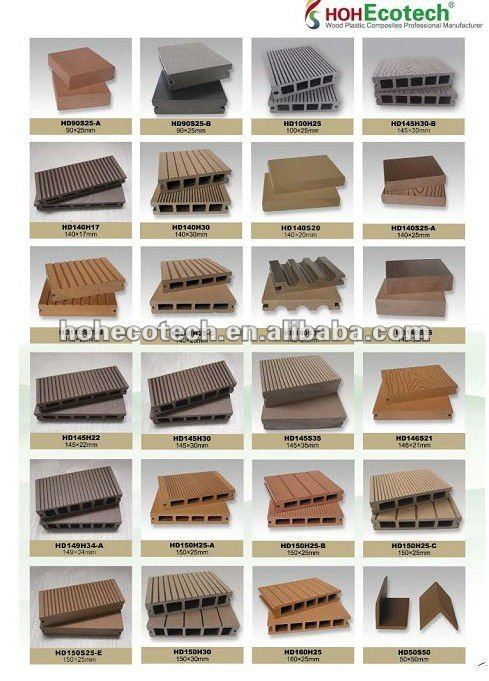 Diy tile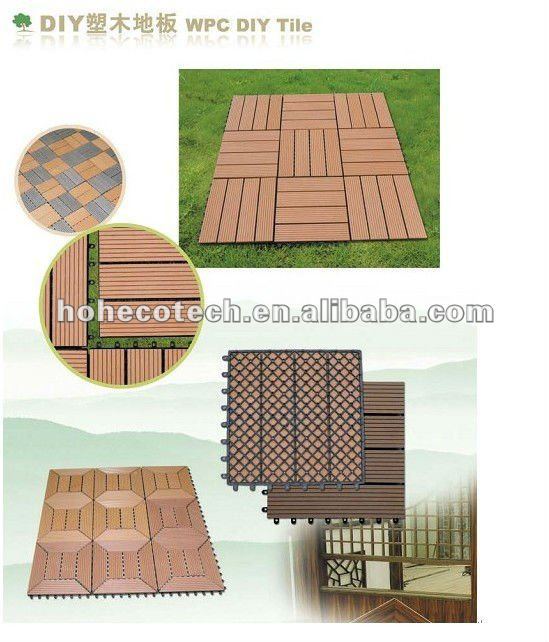 wall cladding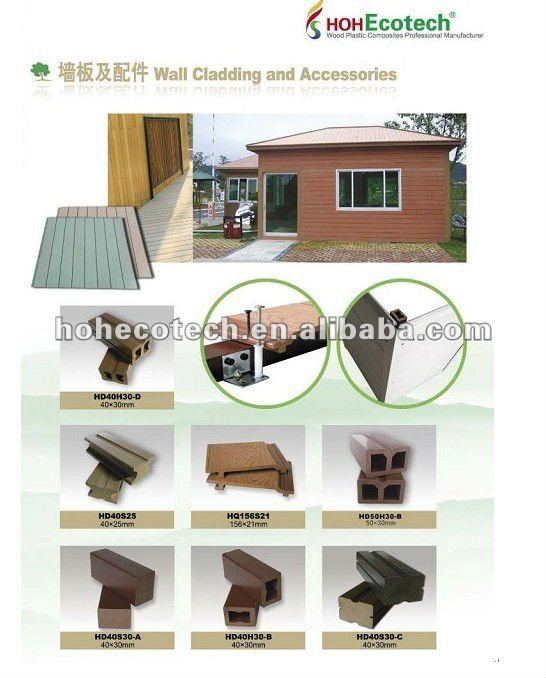 Fencing and railing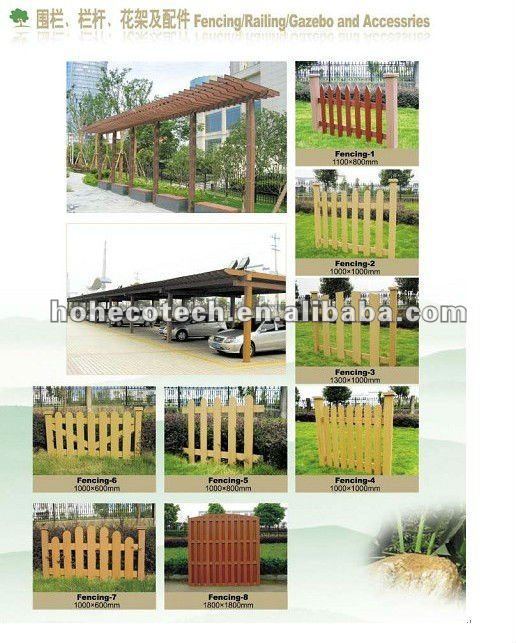 Leisure products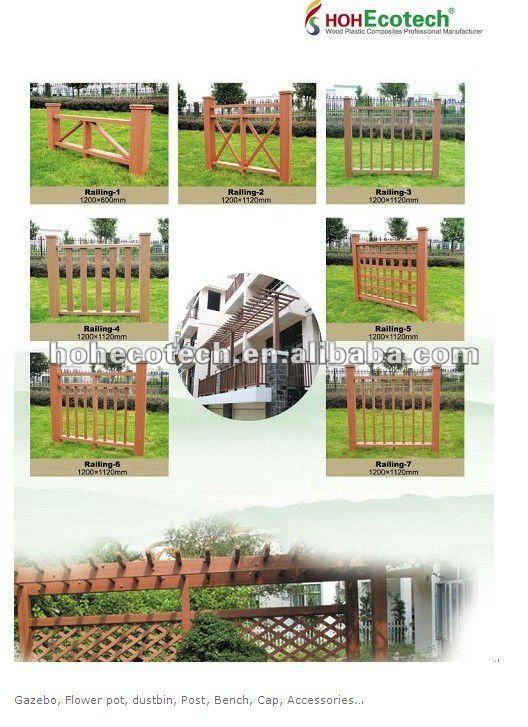 Our certificates: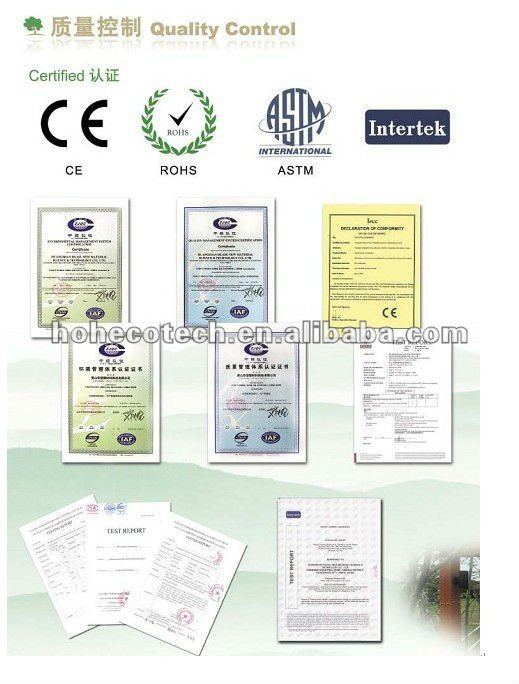 Our company